Fun in the Italian mudd starts with welcome drinks at our villa in the medieval village of Certaldo in Tuscany, close by to the school of Ceramics – La Meridiana.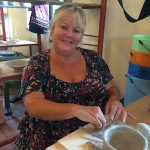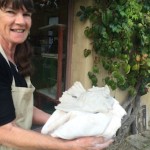 Our little village is so beautiful we will be here for 6 nights so time to unpack and make it home. The village sits on top of a hill with the most spectacular views of the Tuscan countryside. This is more than I could have dreamed with the most amazing sunsets, church bells ringing so beautiful.
The drive to La Meridana School of ceramics is lovely we wind our way up another hill it's an old converted farmhouse built in the 17th century. It's fully equipped with 12 wheels and plenty of space for hand building.
We have had 4 days of clay building, enjoyed amazing delicious 3-course lunch with as much wine as you like, this helps with wheel throwing later!   La dolce vita!!
Cars are not allowed on Certado hill top village so visitors take the funecolare it's a little carriage that takes you up to the village.
last night there was a medieval fair in the village the night is filled with medieval music, dancing, and flame throwing just outside our villa. Tonight it's a food festival the local farmers have their best produce. The famous red onion grows on the hills of Certaldo.
there is also truffles olives cheese and chocolate tasting all grown in the area,  oh and a wedding too there has been 3 three weddings since I have been here.
We were lucky enough to be invited to Ugo Rivo's opening night in Florence last night and see his work in the magnificent gardens of the Four Seasons Hotel in Florence. Ugo Rivo is a very famous sculptor in Italy.