My passion is to inspire others to search for their beauty and creativity within; for it is inspiration that gives us energy to create and it is in creating that we transform our lives.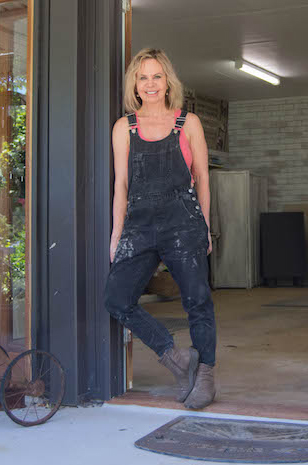 Cathy has  featured on The Great South East, Queensland Weekender, Better Homes and Gardens, The Morning Show and many others. She has also taken Pottery Tours to Tuscany and the Greek Islands to teach pottery in the most amazing settings at these breathtaking destinations.
She has been a potter for 38 years and teaching pottery in her Maleny Studios for over 15 years. She was a founding member of the Peace of Green Gallery in Maleny some 29 years ago, where she still sells her work.
Cathy has recently relocated her studio from Maleny to Noosa, and her work is now created in her impressive Fried Mudd Studio, situated in Gateway Drive, Noosaville. Fortunately, for locals and visitors to the Sunshine Coast, Cathy is ready to share her talents at her hosted Fried Mudd workshops.
Clay has always been therapeutic for Cathy. When she starts making something, a story starts to form in her thoughts, usually involving people she knows, nature or animals. "These stories and thoughts have given my pieces a certain personality and character".
Cathy re-discovered her love of clay, while raising her 4 children, by attending college (for a diploma in ceramics) and countless workshops, her passion of for making pottery has never declined. "I think playing with clay as a child on my parents dairy farm, has built me an emotional relationship with it". "As a child I was very fortunate to spend my days playing in the fields and creek beds, being constantly inspired by nature, I think that connection has influenced my work more than anything else".
It is the process of forming the clay and feeling its texture that Cathy finds most enjoyable. "I find I connect to the earth, it's very grounding, minutes turn into hours before I know it. It's also about losing one's self, but rediscovering the child is so beautiful", Cathy explains smiling.
"It makes me happy to know that my work, from the whimsical to the sleek and modern, can be found in homes all over Australia and various places in the world, that these pieces are treasured by people who have seen my work and HAD to have a piece for themselves".
They said ...
Another great workshop with our Inner Goddess - Thanks to your magic fingers Cathy ! Looking forward to the next one 😀😀😀😀
Karen D.