What a year it has been so far!
Australians have seen drought, bushfires, floods and now a pandemic … and it's only April. But through it all, the Australian character is shining through. Responding to each of these crises with swift action and compassion … it makes me proud to be an Australian.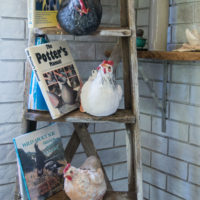 "Stay safe" seems to be on everyone's lips. The new norm is safe social-distancing. Our homes have become a refuge – a place to stay safe, to isolate, to slow down. I find I'm noticing and appreciating the little things, like the abundance of butterflies around our garden, the kindness of neighbours, a smile from a stranger.
It's important to find that quiet place in your home and to make that space yours. Fill it with beautiful things that give you joy. It could be candles, flowers, pretty pictures, photos of family. Most importantly, make it yours – a place you can go to be creative.
For myself, I have always found my home my refuge, especially true in the last 16 years or so. I have had my studio to go to, being surrounded by clay, the hum of the potter's wheel. This is where I am most grounded.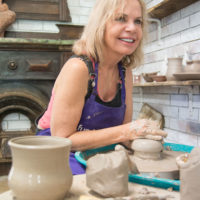 Lately, when I find myself being overwhelmed with sadness for the families who have lost loved ones due to the virus, I know I can go back to my studio, my space, putting my hands in the clay. It changes my focus to the piece I am making – I'm present – I am back in the moment..
A mantra that resonated with me, heard while I was in Penland School of Craft, was "Give Yourself the Gift of Time". I remember thinking, yes, I like that, I'll do that sometime … Well I think I can now "Give Myself the Gift of Time" … maybe this would work for you also…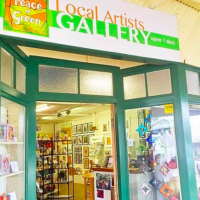 Peace of Green Gallery has been temporary closed due to the Coronavirus. I've been part of the Gallery since its inception 27 years ago, this is the first time it has closed in all that time. It saddened me, as I closed the doors, not knowing how long this pandemic is going to last and how long can we, a group of Artists, keep paying the rent on the Gallery.
Along with my husband Dave, we have launched FriedMudd Shop online. It's something we have talked about for a while now. So, whilst it's not quite the same as visiting the Gallery, you can browse and order your pottery via the website. We will be adding new products as they are produced.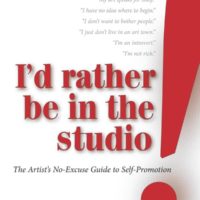 There's a book, that I have just dusted off the shelf – "I'd rather be in the Studio" by Alyson B. Stanfield, is a great art book read – put it on your list.
Enjoy your creative time !