Beautiful Nice, what a wonderful city to explore, we stayed in the old city just one street back from the French Riveria, it was what I needed after the 3 weeks on tour time to relax and indulge in the magic of the City. Words can't express how much I love this place. 
 Explored the streets of Saint-Paul de Vence  such a beautiful medieval village with little cobblestone pathways its known for the many artist galleries.
it is well known for its contemporary art museums and galleries such as Fondation Maeght.
We then hired a car and drove to Avignon on the 5th October, we have an appartment just across from the Popes Place in the old walled city. Music plays in the square its alive with fresh food markets and antiques. The bells of Avignon ring every half hour through out the day and night.
 We were lucky enough to visit a ceramist Christine who has her atelier (studio) in the Popes Palace to decorate tiles so blessed, Christine's  atelier is  through a tiny door and up a winding set of stone stairs what an interesting place, an opportunity that comes once in a lifetime..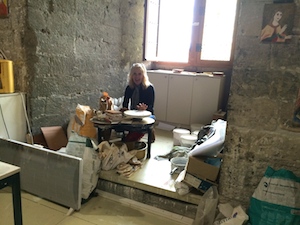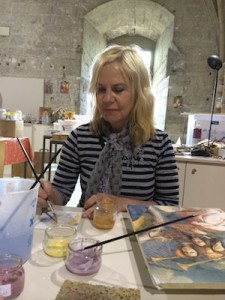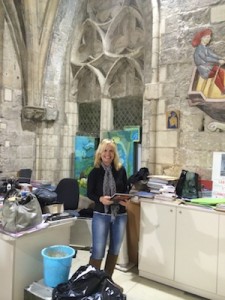 As the sun was setting that night we walked to the 'Sur le Pont d' Avignon' the bridge  dates back to the 15th century.
 The bridge is better known as the Pont d'Avignon on which one dances, as the song says.
 We toured the Palais des Papes –Construction was started in 1335 and completed in less than twenty years under the leadership of two builder popes, Benedict XII and his successor Clement VI. The Popes' Palace is the biggest Gothic palace in all of Europe (15,000 m2 of floor space, which is the equivalent of 4 Gothic cathedrals. 
One night we watched the movie 'Les recettes du bonheur' in french in an old cinema near where we are staying, something I wanted to experience it was amazing.
Next day lunch with our friends who own a organic wine making and bee keeping farm in the Pont du Gard South of France. 
We walked through the vine yards, drank wine from their farm had a wonderful lunch.Then to top of the day we visited the 'Opera Grand' in Avignon and experienced the ballet, Romeo et Juliette.