Each piece is a personal and special experience – I believe each piece has a soul and will often "speak" of whom they are to belong.
Where my Raku passion began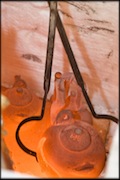 I have always loved playing with clay, as a small child growing up in Maleny I would spend most of my days on my parents dairy farm digging clay from the creek beds and making mud pies. When I was 27 years old I had just had my second child, we were living near Toowoomba at the time my father bought me a potters wheel, it reignited my passion I would spend hours trying to master the wheel.
It was after we moved back to Maleny that I started to seek out pottery classes from Bundaberg to the Sunshine Coast, Brisbane and Tasmania. I tried all sorts of firing methods until I came across Raku. I had found my niche. I have been experimenting with Raku firings for over 29 years.
From perfecting the firings, building my own kilns and making my own glazes. Becoming the only female sculptor on the Sunshine Coast  who specialises in raku firing and making an income from the craft, it has been an incredible journey.
Raku, the history
Raku is an ancient method and philosophy surrounding the making and firing of pottery which was developed by the Japanese in the 16th century. Western Raku is an extension of this process, developed when it was realised that Raku firing lends itself to creating unique hand crafted pottery.
It was introduced to the west by Master Potter Bernard Leech and has been growing in popularity ever since.
The five Chinese elements of Earth, Metal, Fire, Wood and Water – as well as the four "Western" elements of Earth, Fire, Air and Water – are all used appropriately in the creation of each item, to maintain a harmony between the product and the potter.
The vessel is made out of Earth
Metal is added in the form of oxides to sheathe the surface
Fire transforms the clay and glazes in the kiln
The incandescent vessels are removed from the kiln and immediately buried in sawdust and straw, where secondary reduction takes place, transforming the oxide-rich glazes to pure Metal.
These are fixed by quenching in Water.