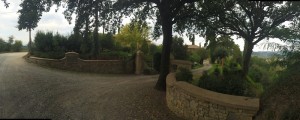 Step by step firing process
After the pots are glazed with the specially mixed raku glazes they are placed very carefully into the raku kiln. The kiln at the school is exceptional it has a pulley system and also room for an addition if you have larger sculptures.
We all helped make our Aussie kookaburra kiln god who sat proud on the kiln.
The pots are fired to 900degrees then taken out with large tongs and placed in the sawdust; as soon as they are on the sawdust they need covering. Totally covered in sawdust we then wait about 10 minutes before taking out with the tongs and submerging in water. This process is very hard on the pots and some do crack because of the instant change in temperature But necessary to hold the color. After 20 minutes the pots are then taken out and cleaned with steel wool to take the carbon of the pots to reveal there uniqueness and color.
The next day is the critique, I was so pleased with the masterpieces that were created so proud!
It was a lovely way to experience and participate in a raku firing. From our passion of clay it has brought us all together such a lovely thing.
Every day at the school we enjoyed a 3-course lunch by chief Lucia and as much wine as we wanted with our meal – just beautiful.
I'll always have fond memories of our wonderful Tuscan pottery experience, such a wonderful bunch of ladies we have shared so many great times together.
The next three days we will be in Faenza the ceramic capital of the world!!