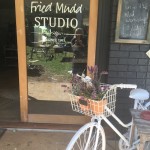 Fried Mudd is opening its studio doors for the first time!
Come and see the place where ideas are conceived, clay is transformed and my unique pieces come to life!
The workshop, gallery, studio and kiln shed are the spaces that I spend much of my life – a life mostly dedicated to my passion for clay.
If you are wondering about the many workshops that are held here, pop in and have a chat, it's a regular day for me, so come and see what I am working on.  The coffee will be on.
And there will be pottery for sale in the Fried Mudd Gallery.