Just over the bridge from Avignon located against the backdrop of Villleneuve a stunning medieval city,is brocante (flea-market) of Villeneuve is one of the best known brocantes in France , this market attracts the most serious antique dealers in Provence and the United States, who arrive early to snap up the best merchandise as did we – I managed to find some amazing treasures.
Les Iuminessences speticular light show in the Palace des Papes, the commentary was totally in French 
The animations were breathtakingly beautiful, and perfectly tailored for the palace that acted as projector screen. The windows, crenulations, towers and even the stone gargoyles were incorporated into the show.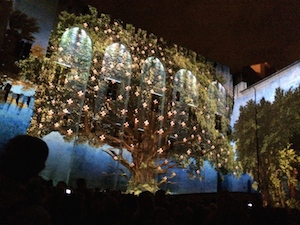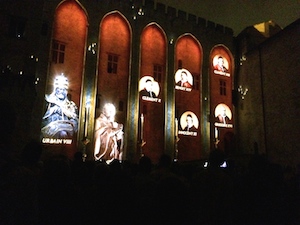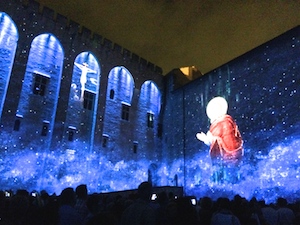 Our next adventure is Vers in the South of France our home for 10 days, its the cutest little village in the South of France just 27 k's from Avignon. owned by a very lovely french lady who has become a wonderful friend.  She kindly offered us her home while she is working in Paris. Its like something out of a movie 'Under the Provence (Tuscan) Sun' Its everything and more than I could have dreamed, pinching myself.
 We explored the little lane way just below the house that leads to the village.
 The house built in the 16th century and has a veggie garden, many small little hidden doors through out with winding old staircases. A well in the cellar, fire place, attic and an old stone barn with a loft.
 Just 2 km's down the road is Le Point Du Gard Pont du Gard (Roman Aqueduct) is one of the oldest and most remarkable Roman hydraulic works. The bridge is 48.77m high, has three levels and was built in ca. 20 BC It crosses the river Gardon near Nimes (south of France).