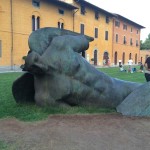 Our next destination is Milan, 500 km of driving to reach Italy.
We drive through the French Alps, La Mount Blanc through long tunnels weaving along the mountains; it's the most glorious scenery. We then drive over the boarder into Italy. From our car we can see the most beautiful Tuscan countryside we are so blessed to be here!!
We spend a night in Milan, do some shopping of cause Milan is having its fashion week when we arrive. The next morning we visit a famous sculptor Ugo Rivo at his studio, this is the highlight of my trip so far.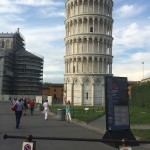 Around 3pm we arrive in Pisa, we are staying in a little apartment above the leaning tower its just perfect the village of Pisa is so beautiful.
We have one night in Pisa before droping our car off at the airport and meeting the group we are about to start 'Fun in the Tuscan Mud' at 'La Meridiana' Tuscan school of Ceramics in Italy!!!!!!!