Clay Gulgong – the Mansfield Farm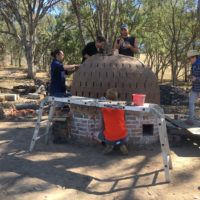 The Gulgong International Clay Festival culminates in the firing of a sculpture that has been in the making the entire conference week.
The location of this sculpture, the creation of which is being overseen by Renata Cassiano (from Mexico) and Craig Hartenberger (from the U.S.A.), is the Mansfield family farm, 20 or so kilometres from Gulgong.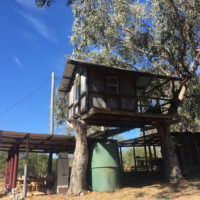 Building a commemorative sculpture on the property, is a loose tradition for the Festival which has been running since 1989.
The property is an awesome ramble of sheds, lean-tos, kilns and galleries. And a to-die-for treehouse.
Clay Gulgong #2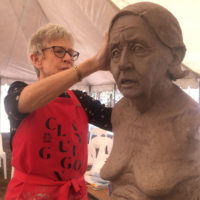 Our first few days have been dominated by an amazing sculptor from Seattle – Tip Toland and a wood-fired potter from Tasmania – Neil Hoffman.
Tip Toland's work is captivating she works with the human form and transforms the clay into her humour. But it is also a voice for her to platform in clay the suffering of the albino South African children in her sculptures.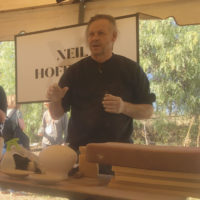 Neil Hoffman has an extraordinarily humble and laid back approach to clay and uses innovative, yet simple techniques to captivate the audience and produce remarkable pieces.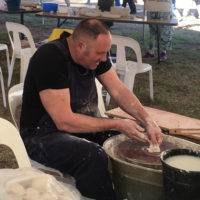 Another presenter that caught my eye was Keith Brymer-Jones, an English potter that hosted "The Great Pottery Showdown" series in the U.K. He has set his sights on making 500 pots for all the delegates at the festival.
Clay Gulgong Road Trip 2018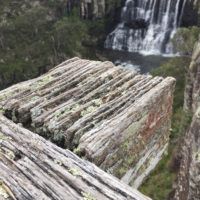 The trip started with an overnight stay in beautiful Byron Bay. This was followed by a scenic drive along the Waterfall Way from Coffs Harbour to North Dorrigo. A cosy little cabin awaited, surrounded by cows, a cool mountain breeze and an amazing sunset. Back on the road, it's Autumn in Armidale, where we find a lovely cafe for lunch and then head towards the Golden Guitar.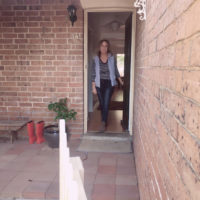 After leaving Tamworth, despite being pelted with golf ball-sized hail, suicidal kangaroos, visibility zero downpours and some mysterious Apple Maps directions, 4.5 hours later, tired, hungry we arrived in Mudgee at our little house called the "Corner Store"built in the 1920's that has been converted into a house.  Wine, cheese and a dreamy bed awaited us!
This set the scene for the week that is to follow.