Pottery is more than just a piece of clay
'When you buy something from an artist, you're buying more than an object (or a video, or a book, or a story). You are buying hundreds of hours of errors and experimentation. You're buying years of frustration and moments of pure joy. You're not buying just one thing, you are buying a piece of a heart, a piece of a soul. A small piece of someone else's life. Thank you.'
I love this, I'm not sure who wrote it, but it does say what many potters and artists feel.
I know from my own experience with this amazing medium what joy passion and pure frustration I have felt over the 35 years I have been working with clay.
It is a love story for me, I get so much joy its almost becoming one with the clay!  When I'm creating a little frog or a chook, or one of my scrumptious  fat ladies, my customers often tell me the piece has a soul it speaks to them it makes them smile.. Thats what gives me the energy at times to keep creating, I like to know that my little creations that I have had so much pleasure in creating, can also be giving the person who buys the piece pleasure too, its very rewarding!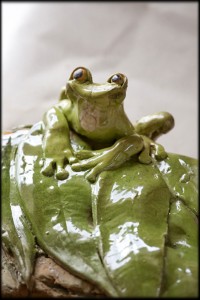 I first discovered clay when I was expecting my 2nd son, we were living in Nobby at the time, I had started attending the Toowoomba Ceramic school where I obtained my diploma in Ceramics. After the birth of my son, I couldn't keep the classes up so my Father gave me a potters wheel it was shipped up by rail.
Now I could practise when ever I got the chance, I'm forever grateful for my father's kindness, and the Potter's wheel that has seen me through some very difficult and lonely times in those early days.  I still have it today its more than 34 years old,  it will always be part of the studio and my 'thank you' whisper to my now passed Dad for the years of enjoyment it has given me.
Raku … a love story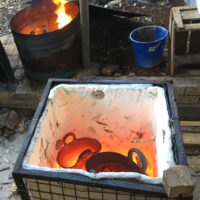 I  came across the Raku firing method during a time that I was researching different kinds of firing techniques, around 30 years ago. Raku captured my imagination due to the exciting and unpredictable nature of the results. I attended a week long workshop given by Jeff Mincham in Bundaberg in the early nineties and I was hooked. I had my first Raku kiln built a few week later.
I am one of only a few female potters in the country, I guess due to the demanding and sometimes dangerous nature of the process. I have developed my own style and glazing technique and many of my signature pieces are a produced in this way.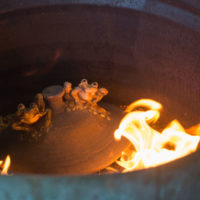 Raku means pleasure or enjoyment. It is an ancient ceramic firing technique which is said to have been invented in Kyoto, Japan for a tea ceremony in the 16th century. The Raku process produces remarkable, unique pieces and whilst traditionally, was used on hand built sculptures, it can be applied to all kinds of clay creations.
The Raku firing is a secondary firing process and involves removing the pieces from the Raku kiln whilst still red hot and then placed in a container filled with flammable material, such as newspaper or sawdust. A lid is then placed over the dum causing a flare up that ensues remove the oxygen from the pot's glaze that creates a wide spectrum of colours. Areas without glaze turn dark providing a stark contrast to the glaze.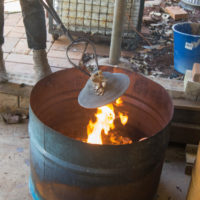 This is where the magic begins.
No two pieces are the same, nor can they be reproduced, making this process unpredictable and exciting. I guess that's why I've been hooked for so long. I often end up with blisters, smoke in my eyes but after a glass of red and a hot bath, the passion remains.