Raku firing at La Meridana International school of Ceramics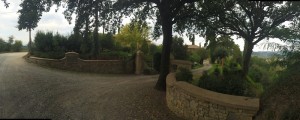 Step by step firing process
After the pots are glazed with the specially mixed raku glazes they are placed very carefully into the raku kiln. The kiln at the school is exceptional it has a pulley system and also room for an addition if you have larger sculptures.
We all helped make our Aussie kookaburra kiln god who sat proud on the kiln.
The pots are fired to 900degrees then taken out with large tongs and placed in the sawdust; as soon as they are on the sawdust they need covering. Totally covered in sawdust we then wait about 10 minutes before taking out with the tongs and submerging in water. This process is very hard on the pots and some do crack because of the instant change in temperature But necessary to hold the color. After 20 minutes the pots are then taken out and cleaned with steel wool to take the carbon of the pots to reveal there uniqueness and color.
The next day is the critique, I was so pleased with the masterpieces that were created so proud!
It was a lovely way to experience and participate in a raku firing. From our passion of clay it has brought us all together such a lovely thing.
Every day at the school we enjoyed a 3-course lunch by chief Lucia and as much wine as we wanted with our meal – just beautiful.
I'll always have fond memories of our wonderful Tuscan pottery experience, such a wonderful bunch of ladies we have shared so many great times together.
The next three days we will be in Faenza the ceramic capital of the world!!
Raku firing in Tuscany
Our last day of glazing and raku firing at La Meridiana School of Ceramics
It was so much fun, some amazing masterpieces. finished our last Raku firing after another beautiful lunch and wine of cause, it just can't end yet!!!
Wandering through Florence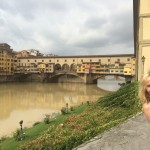 We spend our free day wandering the streets of Florence, shopping visiting the markets there is so many leather bags and jackets to choose from. Diana our tour leader organized a guide to take us to places like The Duomo, Ponte Vecchio is the oldest bridge in Florence, and visited the museum Accademia Gallery where Michelangelo's David is. We all had a wonderful day!
Today we spend the morning learning about Italian clay, we then mixed a raku glaze and finished off our pieces  and finished by making a kiln goddess.
This morning we left our lovely villa in Cerdlo it's been home for 5 nights to transfer to Fattoria Bacio it's a 19 century villa 340 acres of olive groves, and vineyards. Its harvest time so we see the grapes being harvested. They have won prizes for their 'extra vergine' olive oil. It's a beautiful part of the country side in Tuscany! So much to explore it has a chapel and a swimming pool.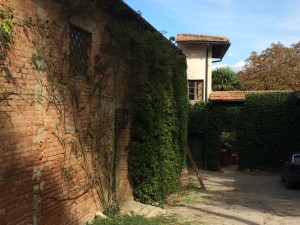 We have arrived in Tuscany for 'Fun in the Italian Mudd'
Fun in the Italian mudd starts with welcome drinks at our villa in the medieval village of Certaldo in Tuscany, close by to the school of Ceramics – La Meridiana.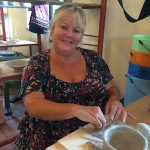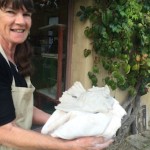 Our little village is so beautiful we will be here for 6 nights so time to unpack and make it home. The village sits on top of a hill with the most spectacular views of the Tuscan countryside. This is more than I could have dreamed with the most amazing sunsets, church bells ringing so beautiful.
The drive to La Meridana School of ceramics is lovely we wind our way up another hill it's an old converted farmhouse built in the 17th century. It's fully equipped with 12 wheels and plenty of space for hand building.
We have had 4 days of clay building, enjoyed amazing delicious 3-course lunch with as much wine as you like, this helps with wheel throwing later!   La dolce vita!!
Cars are not allowed on Certado hill top village so visitors take the funecolare it's a little carriage that takes you up to the village.
last night there was a medieval fair in the village the night is filled with medieval music, dancing, and flame throwing just outside our villa. Tonight it's a food festival the local farmers have their best produce. The famous red onion grows on the hills of Certaldo.
there is also truffles olives cheese and chocolate tasting all grown in the area,  oh and a wedding too there has been 3 three weddings since I have been here.
We were lucky enough to be invited to Ugo Rivo's opening night in Florence last night and see his work in the magnificent gardens of the Four Seasons Hotel in Florence. Ugo Rivo is a very famous sculptor in Italy.
A Potter's journey through France and Itlay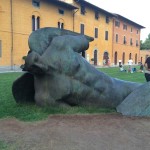 Our next destination is Milan, 500 km of driving to reach Italy.
We drive through the French Alps, La Mount Blanc through long tunnels weaving along the mountains; it's the most glorious scenery. We then drive over the boarder into Italy. From our car we can see the most beautiful Tuscan countryside we are so blessed to be here!!
We spend a night in Milan, do some shopping of cause Milan is having its fashion week when we arrive. The next morning we visit a famous sculptor Ugo Rivo at his studio, this is the highlight of my trip so far.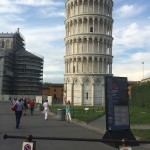 Around 3pm we arrive in Pisa, we are staying in a little apartment above the leaning tower its just perfect the village of Pisa is so beautiful.
We have one night in Pisa before droping our car off at the airport and meeting the group we are about to start 'Fun in the Tuscan Mud' at 'La Meridiana' Tuscan school of Ceramics in Italy!!!!!!!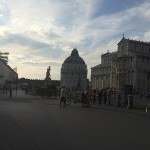 A Potters journey through France and Tuscany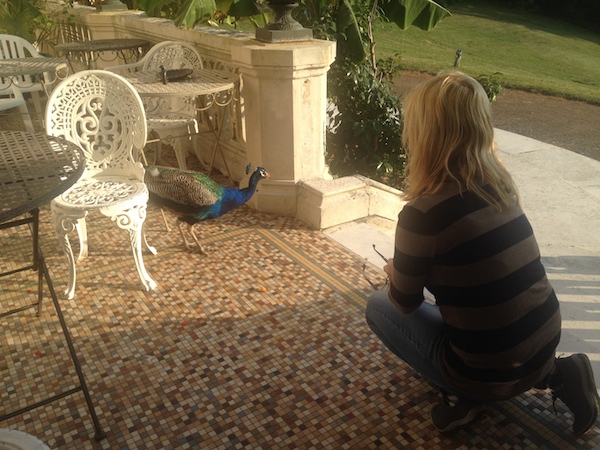 If you wake up early just as the sun in rising the deer come close to the château our friendly peacock came to visit us while we had breakfast then sadly had to say goodbye to the Countess, I have many fond memories of this place.
Our next stop is Lyon its about 450km drive. On the way, we call into the lovely village of Tour, with its gorgeous old buildings some Tudor style – every street is breath taking.
Old antique stores, and the most delicious patisseries, cholocatiers – boutique clothes shops where I bought a lovely scarf.
We then set of on our journey to Lyon. The tolls are confusing, traffic jams it's a very long drive into Lyon very exhausting.  We arrived at our motel room around 7pm.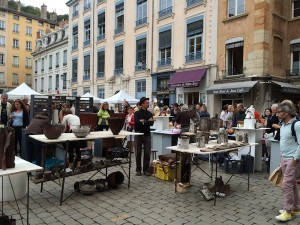 Next morning after a good night sleep we set of early to have some breakfast and buy some fresh fruit and vegetables from the farmers market. Then visit the Sur la Saint-jean, une tre's ancienne coutume du Vieux Lyon, la foire aux tupiniers, the potters fair in old Lyon.
It is filled with pottery from all over France and Europe and has been operating for 17 years.  Old Lyon is the most beautiful city its been a different experience staying in Lyon were in the middle of the city so it's a short walk to the shopping centre tomorrow we leave for Italy.
A Potters journey through France & Tuscany
We came across a Art Supplies shop just across the road from the Louvre, called Le Magasin built in 1900 and still family owned. Greats like Van Gough visited the store often to buy art supplies.
The highlight of the day for me was visiting Claude Monet's home and famous garden. It was truly an amazing experience the little village of Giverny where Monet lived is so beautiful with its small stone cottages and the sweetest little stores, the fields are full of sunflowers so delightful.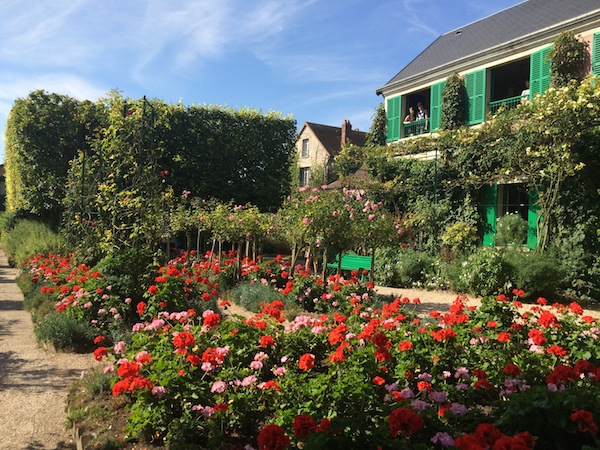 Our last night in Paris, we decide to have dinner as close to the Eiffel Tower as we could, its spectator at night.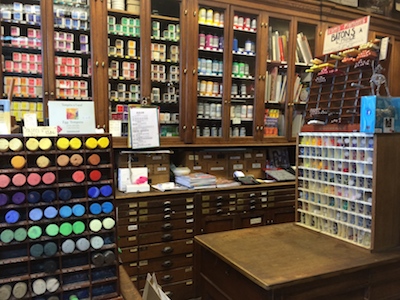 Up early Wednesday morning and ready for our next adventure, picking up our hire car at the train station in Paris.
Driving through Paris is a story on its own; we had a few rather tense moments! But after 3 hrs we had made our way through and on the highway leading to The Loire Valley. We decided we would take the country roads and stop at some of the little villages along the way. We had lunch at a lovely Château under a row of very old mulberry trees it was wonderful!
Around 7pm we arrived at our destination the Château de l'Aubrie're our home for 2 nights! We were greeted by the beautiful Countess and made to feel very welcome. We were totally spoilt with a huge selection of cheeses and wine and bread. Then bed!
I'm sleeping in a cozy little room full of antiques the Château was built in 1860 and is on 15 acres filled with chestnut and acorn trees a swimming pool and a veggie garden – its our home for 3 days oh my gosh I feel like I'm in a old movie!
A Potters Journey through Tuscany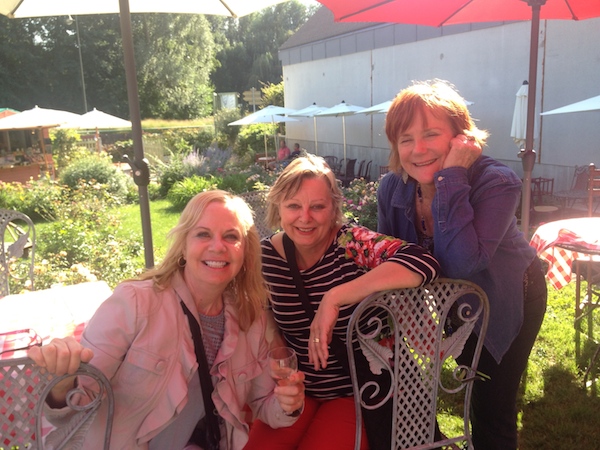 Our journey begins in Paris, after a long 24hr flight we arrived in Paris at 1.30pm Monday afternoon jet lagged we made our way to Hotel Pavillon Opera Paris.
After we had settled in, decided to do some exploring and shopping Paris has so many wonderful places, delightful cafe's and shopping! We made our way to La Fayette plaza its just amazing with multi story levels of the most beautiful stain glass ceiling. I found Chanel perfume the largest in Paris!  Back to our hotel room for a quick shower and a lovely dinner I had French onion soup it was delicious! I just love the little cafes in Paris,  wine, cheese and bread for every meal. 
Early night the next day we decided to take the open air bus and see the sights of Paris we visited the Louvre, saw the Mounlin Rouge and other great sights.