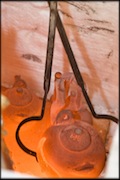 Is Raku pottery food safe?
No matter what type of glaze or decorative material you use, raku is inherently unsafe for use as domestic ware.
The rapid firing, removal of the ware, and subsequent post-firing phase all contribute to fragility, porosity, and thin, easily flaked glaze surfaces.
Not all materials used in raku glazes are toxic. In fact, most are not.
Confusion arises when you realize that over the centuries some of the most prized teabowls by tea masters have been raku fired.
Be safe, and think of your raku ware as decorative and not functional.
Social Share