My journey to Penland started in the LA airport, after a long flight from Brisbane, where I caught another plane to New York! Then a taxi to my accommodation in Times Square. It was all such an experience – not only was this my first visit to America but also I was doing this trip on my own. I settled into the motel room … and pinched myself! Here I am in New York and  just outside my hotel room I can see Times Square. OMG the adventure has begun!
It was almost dark when I arrived in Times Square and I didn't want to miss a second.  The streets are buzzing with people, Broadway shows, buskers and music everywhere. I found a Hard Rock cafe close to where I was staying for dinner – very yummy food. Elvis and Madonna both played here. History is everywhere.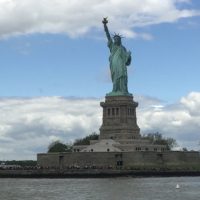 I'm only in New York for 4 days, so I wanted to make the most of it – and I did!  I walked Hyde Park, took a ferry to see the Statue of Liberty, jumped on an open bus and toured New York. Took the subway nearly got lost! Ate at a cafe where Marilyn Monroe often came for breakfast. Watched The Phantom of the Opera and Sunset Blvd, in Broadway. By the end of the 4th day I was feeling almost like a New Yorker, very confident!
On Day 5, I caught a taxi back to the airport to fly to Asheville ready to start the next chapter – Penland School of Craft in North Carolina.
Social Share